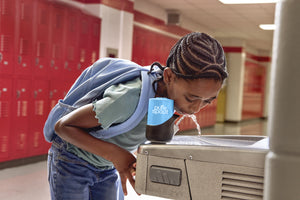 Achieve Quality Water
Reduce Lead and Transform Your Water Fountain
Developed by expert water quality scientists, Pure Spout® offers innovative filtration solutions that reduce lead in drinking fountain water.
Facilities now have proactive, cost-effective options to ensure everyone has access to quality filtered water.
View Product
Did you know...
44
The average age of a US Public School building.
1991
The year the Lead & Copper Rule was enacted to reduce lead in drinking water.
35
Millions of students at-risk for lead-contaminated water.
Filtered Water at the Spout
Our patented Pure Spout® On-Fountain Filter System replaces the existing drinking spout with a filter that provides a final barrier against lead.
Learn More